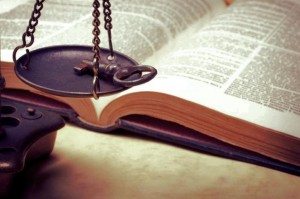 The idea of law vs. grace is very significant to Christians, although not all Christians have been exposed to it. The idea would not be as familiar to a non-Christian, but it is reasonably plain for anyone to understand. Law is, of course, justice being served fairly, and grace is forgiveness of a law broken. These concepts appear in our lives on a daily basis, but when speaking about them in a biblical sense, they carry a bigger meaning.
The idea of grace replacing law through the acts of Christ is the message behind all of Christianity. It is also the concept that is most commonly adulterated by people. Before the work of Christ was put into motion, the biblical stance on the sinful nature of mankind was that it could not exist in the presence of God. Therefore, mankind was unfit to be in God's presence because man is inherently corruptible.
However, Christ was sent to live among us for a very specific reason: to sacrifice himself and take the blame for our sin so that we could have the opportunity to be in God's presence at the end of our lives. This act changed the way of the world in its relationship to God. This was the turning point when law was replaced with Grace. Until this time, it was the goal of mankind to live in a way that was pleasing to God in order to spend eternity with Him, which was not working out very well. Christ fulfilled the law by dying in our place, making us no longer under the law, but instead under the perfect forgiveness of God and the mercy of Christ. A radical concept, but a beautiful and divine one indeed.
In the context of addiction, speaking about law vs. grace is very applicable. Despite Christ's incredible sacrifice, mankind does not emulate His selflessness. Instead, we jump at the chance to hold our fellow man up to every measure of the law. We do not treat addicts with forgiveness or patience, but with judgment, scorn and the creation of stigmas. This was never God's plan or Christ's intention for us. Christ showed mercy and love to those who were afflicted with disorders and battling addiction. He told them they were beautiful and worthy. Where the law states that an addict reaps what they sow and deserves the consequences they come by, the grace that replaced the law through Christ states that those who are broken deserve compassion and love to get them back on their feet. If someone you care about is struggling with addiction, give them the gift of knowing Christ by connecting them with a Christian drug rehabilitation program or a Christian alcohol rehabilitation program.